Free Image Manipulator is a free program which lets you resize, convert, add Tags, watermarks, text, signatures to pictures / images in batches at once.
If you are having huge number of pictures / images, and you want to add watermarks or resize them, then this free tool lets you complete your task in an easiest way.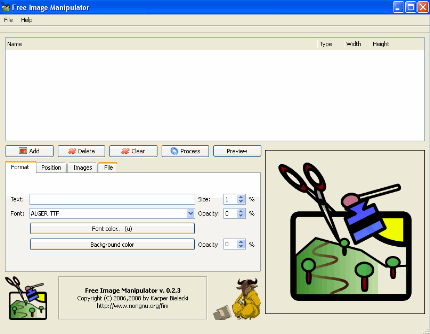 Just adjust the settings and select the images that you want to covert, add tags or signatures and leave the rest to this program. This tool formats it supports are: PNG, JPEG and GIF.
One another worthy thing about this program is that it lets you add text to images of different sizes, and after resizing, the text will be shown in each image in the same way.
Free Image Manipulator works on Windows and Linux, has a nice and intuitive interface and is a great tool for editing images en masse.