Here is a giveaway from Check Point, Developers of Zone Alarm. They are offering free download of Zone Alarm Pro Firewall 2010.  This promotional offer includes 1 year subscription offer of ZoneAlarm Pro 2010.  The $39.95 software can be used for free on 3 PCs for 1 year. You need to wait for the 24-hours free download promotion period to download ZoneAlarm Pro 2010 with genuine and legitimate working license serial key with one year subscription period.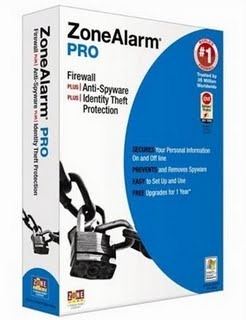 The 24 hour free giveaway of ZoneAlarm Pro 2010 will be conducted on October 13, 2009. You can go to the following links to get the free license key of this Firewall software..
http://download.zonealarm.com/bin/free/sum/index.html
ZoneAlarm Pro is a popular Firewall application which has the standard two-way firewall to protect computer against malicious attacks from hackers by making your PC invisible online and blocking intrusions. It also has OSFirewall, advanced download protection, ID protection service with free credit bureau monitoring, anti-phishing, and Site Status Toolbar.