In this another promotional offer, you can download Vexira Antivirus professional for Free. This lets you use Vexira Antivirus professional full version for 1 year for no cost. The $34.95 a year of subscription can be used for free by registering your product with the working genuine license of Vexira Antivirus professional.
Check out other giveaways by which you can download expensive antivirus software for free.
Free download Antivirus software
This license serial key code of Vexira Antivirus Professional can be found in the following way..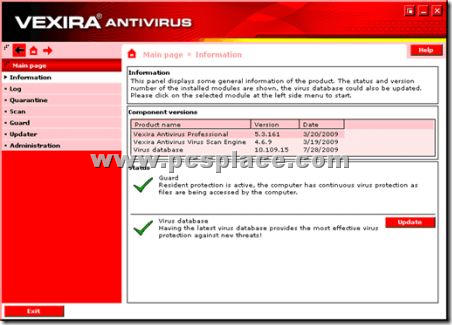 Download the Vexira Antivirus setup from these links..
Windows 98/ME/2000/XP: winprof.exe
Windows Vista (32-bit): winprof.exe
Windows Vista (64-bit): winprof.exe
Run the downloaded set up file which will as you to enter registration data.

Click on Enter registration data and fill in the below code.
User name: ABJ Reader
Registration key: ESKSU-UMREA-A8CBT
Follow the instructions to install the Vexira antivirus and you will have a full version registered product for 1 year. 
Vexira Antivirus is an anti virus which works for almost every operating system like Microsoft Windows, Samba, Linux, Novell, Solaris, Free BSD, Open BSD, AIX, GroupWise, various mail server  which supprots different clients like Send mail, Milter, Postfix, Qmail, Courier, Exim, and SMTP Relay etc. The Vexira Antivirus technology protects against viruses, worms, Trojans, adware, spyware and hostile ActiveX and Java applications.
Features of Vexira Antivirus
Multi-platform, multi-tier, enterprise-wide virus protection

Can be centrally managed, updated and deployed

Low system requirements

Industry leading and innovative virus protection technology

Easy to use with simple installation and deployment

Configurable virus protection policy enforcement

Complete coverage by scanning Internet downloads, floppy disks, e-mail attachments, network drives, shared files, CD-ROM, online services, ZIP drives, tape backups

Complete automatic updating

Low total cost of ownership (TCO)
[Via]