Uniblue DiskRescue is one of the best Hard Drive defragmenting software. As a promotional offer, APC magazine are giving away free genuine License Serial Keys of Uniblue Disk Rescue 2009 Full Version . We already posted about Free Download Uniblue Speed-Up-My-PC 2009 1 Year Activation License Serial Key. In order to avail get this $29.95 worth software for free, Follow this procedure..
Enter your details in the form and click the "Submit" button.

You will receive an email with information required for downloading the software and also the serial number for 1 year validation and activation along with installation instructions.

Register your product using the license key by clicking on "Register Now" and Entering the serial number mailed to you and Click "Activate Now".

Restart the applications and you have a Full version of Uniblue DiskRescue 2009 for 1 year including updates and support.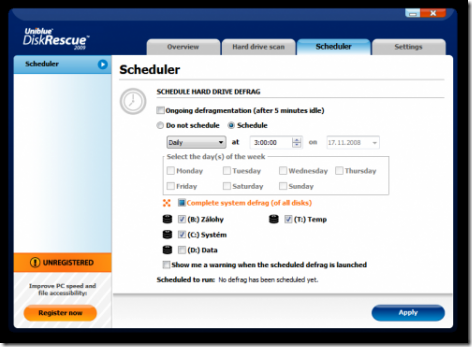 UniBlue DiskRescue 2009 is a very useful software with lot of features. It can perform Hard Disk Scans and can defragment fragmented parts of the drive. This is useful to improve performance of the computer. Its user friendly interface makes it easy to operate.  It has a powerful disk defrag engine which can be used to Speed up and optimize the hard disk. It performs in depth analysis of the hard disk and checks for any flaws.
You can download the trail version of the software, but it can only scan but can't defragment. Using the above offer, you can get all the features with the Full version of Uniblue DiskRescue 2009 for Free. Use it to enhance the performance of hard drive.