Portrait Professional photo or image editing software is used to edit portrait photographs and make them look better. Now you can download Portrait Professional 6 with working Activation Key for free. Using this promotional offer you can get Portrait Professional 6 with full version license activation key or serial key code to unlock the software. For this,
Go to this

promotional offer

and register for free Portrait Professional 6 activation token.

Enter your email address, and click on Senden button to register.

An email titled "Ihr kostenloser Freischaltcode für Portrait Professional 6″ will be delivered to the mailbox with a activation unlock code, which is in the format of PSN-XXX-XXX-XXX-XXX.

Portrait Professional 6 setup installer can be downloaded from

this link

.

Install and run Portrait Professional 6, and activate the software with the serial key received within 7 days. Activation can be done online aka automatic activation (with activation token – serial code received) or offline aka manual activation via http://www.portraitprofessional.com/activate/ with system fingerprint, email and product key from the e-mail.

After you activate, you can use full version software.
[via]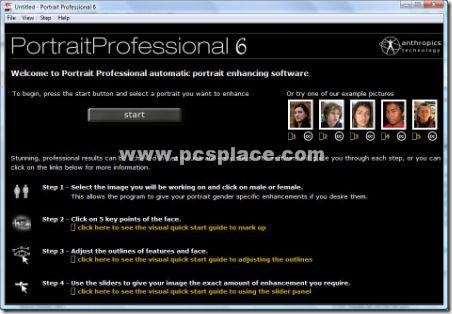 This Portrait Professional 6 can be used if you cannot afford the latest version. It can be used to beautify and enhance all aspects of the face and hair of the subject (people) in image by moving sliders so that everybody looks great in photo. This image editing software is easy to use and is very useful for photographers and helps you correct and enhance your portraits. Other features of Portrait Professional 6:
Fix and touch up skin blemishes such as spots or pimples

Reduce and/or remove wrinkles

Remove grease, sweat or unsightly shine from the skin

Subtly reshape all or any aspect of the face to reduce the apparent weight of the subject or make the face subtly more attractive

Enhance the eye and mouth shape color and sharpness

Automatically smooth out, neaten, recolor and thicken the subject's hair

Adjust the lighting on the face to make it more flattering or remove shadows from hats

Remove red eye

Whiten teeth and eyes

Sharpen individual features like eyes, eyebrows, nose and mouth

Ability to automatically reshape the face to fit a model of beauty or celebrity