It was not long back that Angry Birds came into picture. This fantastic game was first features on iPhone, iPad, iPod Touch, then it came to Android and then to computers. We have already shared a trick to download Angry Birds for free on Mac OS, this time its for Windows users. Yes, download Angry Birds on Windows for free.
Here is a giveaway from Intel AppUp which is offering free full version download of Angry Birds on Windows computers. Here is the step by step procedure the download Angry Birds for free:
STEP 1: Download and install Intel AppUP on your Windows computer. And make sure that you have Adobe Air installed on the same computer on which you would be installing Intel AppUp.
STEP 2: Now, click on the Sign In button and then click on Sign Up and complete the whole procedure to get an account.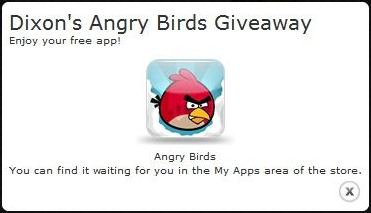 STEP 3: Once you are done with registration, you would encounter a notification mentioning as Dixon's Angry Birds Giveaway.
STEP 4: Now login to the Intel AppUp Centre and there click on My Apps. And there, you will find that you could download and install Angry Birds for free on your Windows computer.