It seems like giveaway season. Now its your chance to avail free license code for AVG Internet Security 2011 full version. This is a promotional offer from Zima which lets you avail free serial code for 3 months. If you AVG IS 2011 is about to expire, then get going with this giveaway and grab your free license.
This is a Polish giveaway, so the whole promotional offer would be carried in Polish language. Now, this would not stop you from using the free key. And the best part is unlike previous other language giveaways, you need not do any settings on your AVG Internet Security 2011 program to use this free license code.
Avail Free License Code For Free AVG Internet Security 2011
Now below is the step by step procedure to avail this promotional offer:
Visit the promo offer page
Now fill the form that has opened with the correct details. You only need to fill the fields in BLUE. So, fill it as shown in the below image.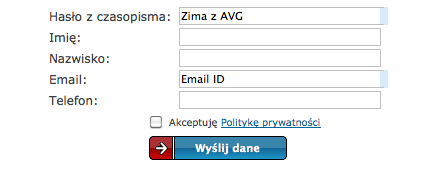 Once it is done, click on the below button to submit your details.
Within few minutes you would receiving the license code / serial key on the above mentioned email ID. And it would also give you the link to download the AVG Internet Security 2011. It is recommended not to use that link as it gives you the Polish version.
NOTE: For English version, click here.
Now, use that license code to activate your AVG product and to extend free license for AVG Internet Security 2011 for 3 more months.