Kaspersky has been developing the best anti virus products since quite a number of years. I have been using Kaspersky products, and I have surely turned into a big Kaspersky fan (yes, I say this in every Kaspersky post).
This is not a Kaspersky giveaway as it is hard to find them these days. This is infact a small trick which would let you download free Kaspersky Internet Security 2012.
Before we actually get into the steps to avail free license to KIS 2012, here are some of its features:
User friendly interface
Low on CPU consumption
Two way firewall
Capable of detecting and removing up to date virus and malware as it is integrated with its servers on cloud too
Good security suite
Steps To Avail Free 1 Year License Kaspersky Internet Security 2012
In this trick to avail free license key to Kaspersky Internet Security 2012, we would be following the steps similar to way we did for its German giveaway. So, you need a Computer Bild account for that. Here are the steps:
Get on to the home page of ComputerBild and fill in the details as shown below: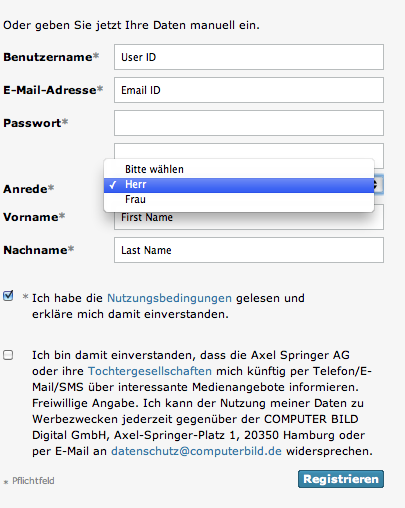 Once you are done filling the details, click on Registrieren button
Check your mail box (the email ID that you have entered), check for an email from ComputerBild and click on the confirmation link given in the email
Now we are good go ahead with the next part of set of the steps to avail free Kaspersky Internet Security 2012.
To start with, download the Kaspersky Internet Security 2012 installer
You need to download cbi.dll file which we would be using later
Get on to the promo page now and login to it using your credentials that you have created in the above steps
When you login to the account, put a check across Persönlichen Lizenzschlüssel anfordern oder verlängern.. option and click on Lizenzschlüssel anfordern button
Check your email box now as you would have received free license key for 1 year
Once you have received the key, run the KIS 2012 installer and proceed with the installation
Have a look at the bottom of the first window and put a check across Change installation settings option and click on the next window
On this window, make sure to uncheck the Protect installation process option and click on the Install button to start with it
Let the first round of file installation complete. And during the second round of the new files installation, click on Cancel button and do not click on Yes as we did on temporary basis only
Navigate to the location where you are installing Kaspersky, and paste the above downloaded cbi.dll file here, click on the No button so that the installation could continue
Once the installation is complete, it would prompt you to enter the license key. Just enter the one you received on email and proceed with it
It would offer you a 3 month license key. After every 3 months, you can follow the above steps to receive a new activation code on to your email. And you can do it for one complete year
These are the complete set of steps to avail free license key for Kaspersky Internet Security 2012.