Fraqtive is an open source Mandelbrot and Julia family fractal generator which runs on number of platforms. Based on algorithms which are pretty fast, this free program generates high quality results.
You can customize each fractal the way you want by choosing the type of fractal, modifying it, choosing the rotation angle, zoom in the way you want and select a color palette. It is like having that you wanted.
Oh yes, I forgot to mention. Its algorithms are pretty powerful and advanced that it renders 3D fractals. Yes, you can label it as a free 3D factal generator.
It has highly optimized procedures for performing calculations inbuilt, which are actually called algorithms. And by the good virtue of SSE2 extension, it generates high quality 2D and 3D fractal scenes.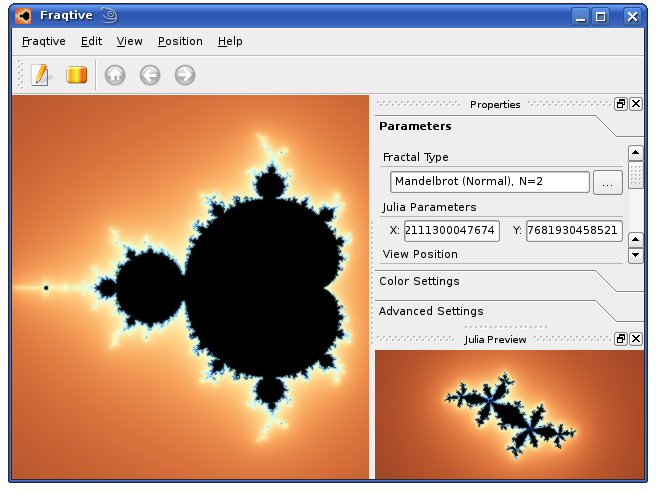 It actually renders the surface of the fractal in 3D which looks spectacular. And its OpenGL library offers hardware accelerated rendering to get best of the images.
Fraqtive can see any changes, and changes in real time as well as move comfortably on fractals in 2D and 3D. The tool works perfectly, and with a great performance by taking advantage of the SSE2 extension of current microprocessors.
Fraqtive fractal generator is a really interesting, simple and effective. And below are some of its features:
Very fast algorithms
Real time navigation
High quality images
Renders 3D images