Most of us have a problem with computer screens bright light, especially when you are working nights without lights. Its very hard to adjust to that light and in many cases is not good for our eyes. In order to solve this problem, here is F.lux , a program that works for Microsoft Windows, Mac OS X and Linux that adjusts the brightness of the computer monitor according to the time to day.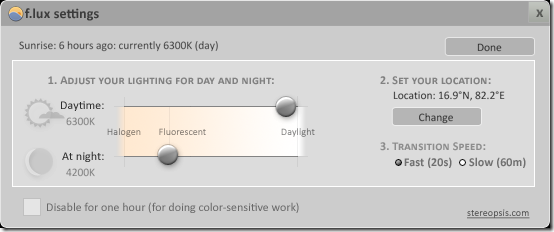 This monitor lighting control software will make it more comfortable to the eye by automatically adjusting the color temperature of the computer monitor. F.Lux tells you what kind of lighting is ideal for the monitor and will adjust the settings accordingly. The settings include your location of computer system and the transition speed. along with ability to change the Kalvin degrees for the daytime and night.
This software is a must have to people who are facing problems with brightness of computer screens and it will also be helpful in providing strain free computing experience .
Try F.lux, Monitor Light Adjusting Software