Most of us find a lot of duplicate files all the time in our hard disk. If you want to eliminate all the duplicate files, CloneSpy is the software for it. This free program helps you to find and remove all the duplicate files or folders like 0 byte files from your system by deleting them completely. It also helps you locate locate files with the same names but completely different content, so that you can organize them.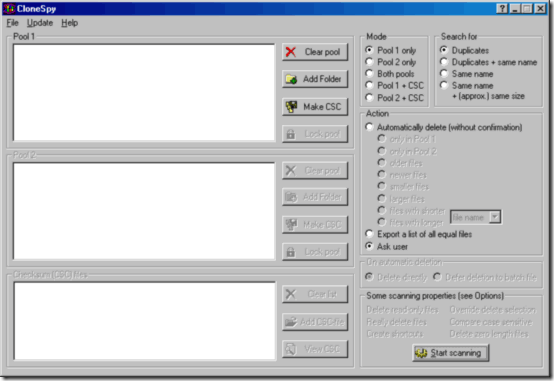 We download and dump a lot of files on our hard disk and it is very difficult to recognize the duplicate contents. Clone Spy helps you free up hard drive by removing all the clutter. These duplicate files have exactly the same contents regardless of their name, date, time and location. Using CloneSpy you can find all the versions of the same file and can remove the older versions.
The different types of files you can find and remove with Clone Spy are duplicates, duplicates and have the same file name, have the same file name, have the same file name and (approximately) the same size, zero bytes long. It can recognize the files easily. Download CloneSpy as it is a must have tool in the present situations of more data storage.