Bloated applications have become a thorough annoyance. Something as simple as a PDF reader, namely Adobe Acrobat Reader, is not only a hefty download but is also heavy on system requirements. Well, here comes a nice free application that happily dispenses the fattening problem: eXPert PDF Reader! It's everything that Acrobat Reader isn't; it's quick to open, is not a resource hog, runs well on old PCs and doesn't bother you with update messages (which are essential for security purposes) Importantly, it doesn't come with the overheads that plague Adobe's Acrobat Reader.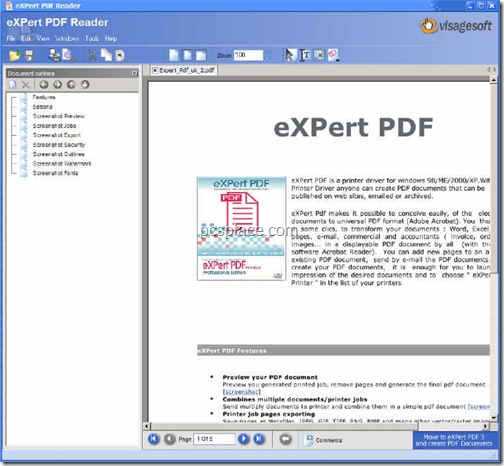 At the same time, it has respectable functionality if all that you require is reading PDFs.eXPert PDF reader also allows modification of existing documents, such as creating  document outlines, inserting rubber stamps, modifying annotations, and bookmarking text passages in a document. It can also be useful to print PDF documents on Windows Operating Systems.
Quite unexpectedly, you can also choose from various skins (which are provided). eXPert is faster than Adobe's Reader. However, it wastes space which could easily be used for reading. try it because it is Fast and has basic editing functionality.