Dragon Dictation is a free voice / speech recognition application for Apple iPhone.This free speech recognition tool lets you handle your iPhone with your voice. With this iPhone application, you can dictate emails, text messages, blog posts and every other activity for which you need keyboard.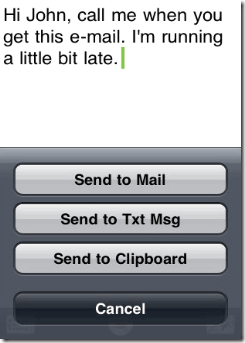 Using Dragon Dictation is amazingly easy as it offers a friendly user interface. All you need to do is simply tab on the screen and you can start dictating to get your work done. If you are a US resident, then you can download this free app from iTunes or else you can download it from its official site.
This free speech recognition app is compatible on original iPhone 2G, 3G and the latest iPhone 3Gs but provided it is running on at least iPhone OS 3.1.