DiskDigger is a free tool to find and recover lost files and data. If you delete some data accidently or by mistake and if you want it back, this portable application will come to the rescue. Disk Digger can recover data from any kind of storage devices like USB flash drives, memory cards (SD, CompactFlash, Memory Stick, etc), and hard disk.
It scans the actual content of the hard drive for deleted files and even finds files whose entries in the partition table are already overwritten. To undelete and recover lost files and data, It scans the file system for deleted files and also scans the disk surface for traces of lost files. This tool will be helpful to get back files even after you emptied your recycle bin or trash. Also check out some of our previous posts on similar software..
Undelete Plus – Recover / Restore Accidentally Deleted Files
How To Recover Data From A Crashed Hard Drive using PC Inspector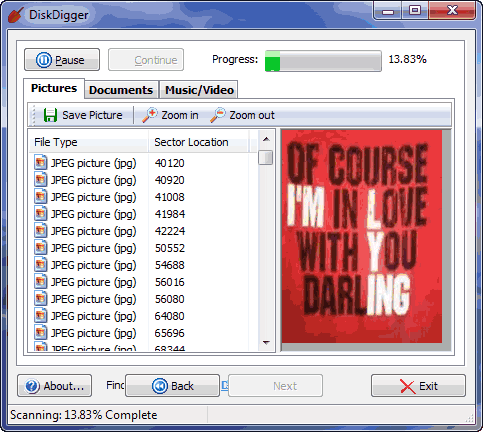 Disk Digger can recover any kind of file or any format like  photos, videos, music, documents, etc. It can even scan reformatted or badly formatted disks (disks to which Windows can't assign a drive letter), and even disks with bad sectors.
Features of DiskDigger are..
Scans different types of files, including photos, videos, music files, and documents

Preview files before saving.

Scans various media including USB flash drives, Various types of memory cards like SD, Compact Flash, Memory Stick, etc, and your hard drive.

It can undelete files from all types of FAT partitions as well as NTFS.

No need to install the program.