Downloads often stop and can't be resumed after a lost connection. If you want to continue or resume downloads even after Internet connection is interrupted or lost, Try Fresh Download, a free and easy to use download manager which turbo charges downloading files from the Internet. It allows faster downloads and includes an integrated ZIP packer.
You can also integrate an antivirus tool to this free download manager, so that your downloads will be scanned for malware after the download has been finished. Also you can schedule your downloads and resume file transfers from the internet, when a download could not be completed.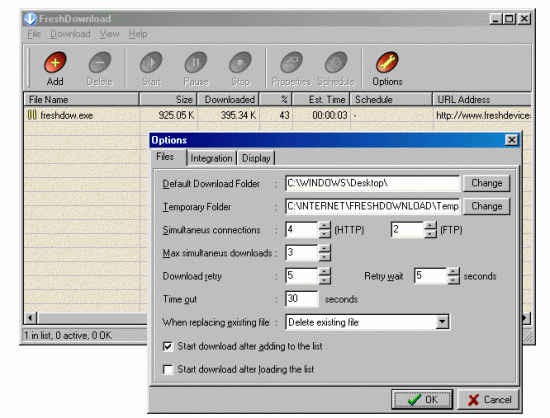 Features of Fresh Download:
Accelerates the downloading of files in FTP, HTTP and HTTPS protocols using your current internet connection (dial-up, cable, DSL / ADSL, satellite, T1, etc).

Pause and resume broken downloads, recovers from a dropped internet connection.

Multiple connections download manager to speed up your downloads by up to 400%.

Easy integration into many browsers like Internet Explorer, Mozilla Firebird and Firefox,Opera. etc

Schedule your downloads for low traffic periods.

Clipboard monitoring and drag & drop features.

Antivirus support.

Ability to download from password protected sites, in both HTTP and FTP protocols.

Proxy Server support in both HTTP and FTP protocols.