QR code was initially started for Android devices. Its purpose was to pack some meta deta and information like phone numbers, names, addresess, and other info in the form of a code. And the only way to read it use QR Code Readers.
Later, this QR Codes have started coming for iOS devices. There might have been times when you have been browsing on your Windows machine and felt the need for QR Code scanner for Windows.
Here is a QR Code reader for Windows namely, CodeTwo QR Code Reader which woul help you read / scan QR Codes on Windows computers. This free Windows program works in two modes. In one, it lets you scan a QR Code for any file which could a PDF file, BMP, JPEG, PNG, TIFF, DIB, TIFF and many others.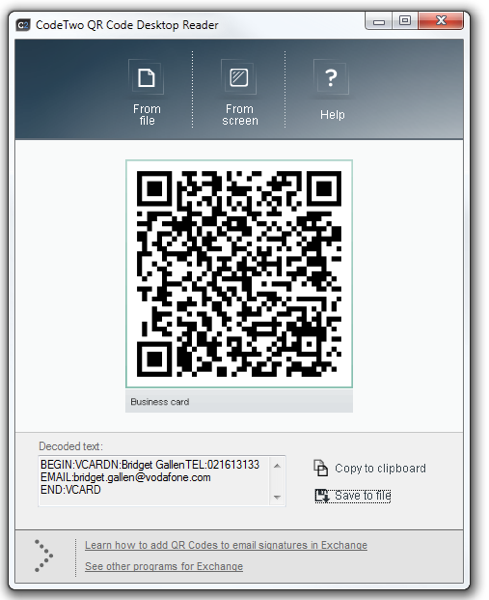 To do so, all you need to do is launch this program, click on the From File option, browse to the file which you want it to read. This will detect and read the QR Code and will display the decoded message in the below field mentioned as Decoded Text. You can copy it to clipboard or save it in a text file.
The other mode is the From Screen Mode which lets you read any QR Code displayed on the screen (may be from your web browser). Just launch this program, click on From Screen and use the select tool to drag and select the QR Code.
Its an easy to use app which lets you scan QR Code on your computer. And the best part is that it does not invlice any trick and hack. CodeTwo QR Code Reader is a pretty straight forward app. Give it a try!