Before I go ahead with the review, I would like to tell you people that I have actually tried the free version of Cloud System Booster few months back and I have really liked it. But I could not continue using it because it was a trial back.
And here I am reviewing Cloud System Booster Pro and offering 20 free license codes. Yes, this is a giveaway. This Anvisoft Corportaion product gels with your machine amazingly and helps it by boosting its performance.
So what exactly does this program do? Unlike the conventional machine boosters, Cloud System Booster Pro uses the cloud technology which lets it work with real time algorithms and updates. It offers 4 fundamental functions which are, Cleaner, Optimizer, Repair and Application.
Lets get into more details. Cloud System Booster Pro cleans junk files, fixes registry errors, cleans application related files and it performs many more tasks which would only help your computer run faster and smoother.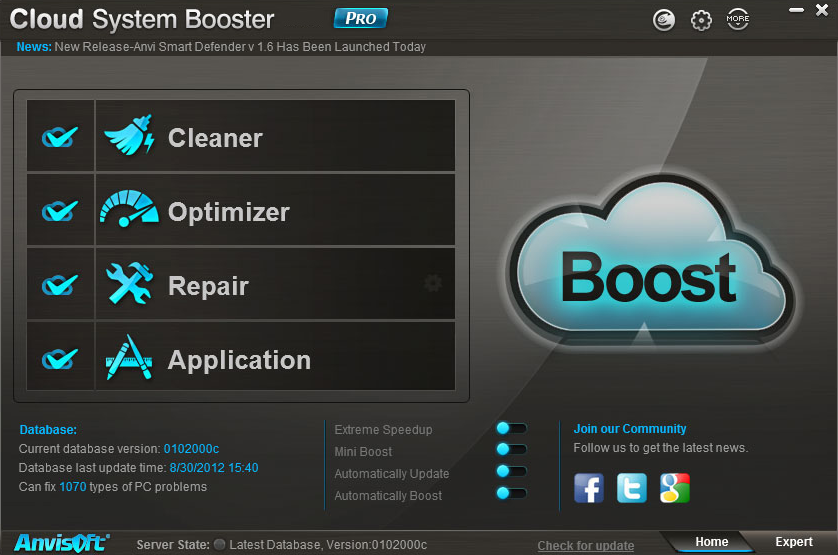 Sometimes it is not just about running the program and leaving rest to it (you can anyways to do!). To get better results, you can tweak its settings in order to get maximum performance boost. And in order to trigger the whole process, you just need to click on Boost button (shaped like a cloud).
Below are some of its key features:
Super Powerful Cleaning System
Most of the computer boosters eat up a lot of your resources while it runs, but Cloud System Booster Pro is fast, quick and accurate. Within no time this program scans your machine and finds all the junk files, junk registry files, and other unnecessary overload and cleans them. This is its USP!
Deactivate the services which are not needed
What slows down a computer? Well, its the unnecessary services that run in the background which are not needed. It checks for inactive services at regular intervals and deactivates them to free some resources and boost the system's performance.
And many more like,
It just needs one click to start acting. And everything is taken care by itself which includes, scanning, finding and cleaning
It also features Expert Mode which lets you fix a problem in a professional manner
Chameleon (its a skin changer)
Online Cloud Database for real time updates
Cloud System Booster Pro – 20 Free License Code Giveaway
If you wish to buy this product, it would cost you $19.98, but in this giveaway, you have a great chance to get it for free. Use the below Rafflecopter widget to mark your entry.
NOTE: The giveaway ends on 04th September, 2012 and winners will be picked using Rafflecopter and will be communicated via e-mail on 10th October, 2012.