Carry all your applications anywhere without carrying your computer or Laptop. You can access any computer like your own computer by personalizing it with your programs.  The biggest problem while using a computer that's not yours is that you don't know if it's infected, or if your activities are being logged. Of course, there are ways to find out, but you'd rather be doing something more important with your time. In short, It lets you carry your computer on a USB drive.
Here is MojoPac. The idea behind the software is simple: it installs itself on any portable media device, from MP3 players to USB sticks, and creates a virtual environment for you to install and run applications. While most virtualisation software require you to purchase a separate licence for Windows to install on your portable media, MojoPac uses essential files from the machine that it is connected to – the host machine – to run a protected environment.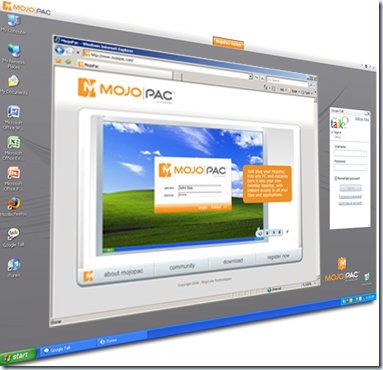 When in this virtualised mode, MojoPac places a toolbar at the top of the Desktop, which allows you to switch back to the host when required. The computing tasks you carry out in the virtualised mode stay there, and no traces of those are replicated on the host machine. All the software I installed in the virtualised mode ran perfectly. There are reports, however, of Web-cams not working properly with the software.
There are a few things I don't really like, though. In the virtualised mode, you don't have access to the drives on the host machine, and any file transfer you want to do between your MojoPac USB stick to the host machine has to be done outside of MojoPac. The software works fine with USB 2.0 devices, but on older devices it can get sluggish; and finally, MojoPac runs only on Windows XP host machines.
In spite of its few drawbacks, MojoPac is a wonderful tool for professionals on the move who don't carry a laptop. Check it out and give your reviews. Here are its requirements :
Platform: Windows XP only
RAM: 256MB Minimum, 512MB recommended
USB Flash Requirements: USB 2.0 is required. USB 1.1 is too slow to provide an optimum Mojo experience for running applications, and therefore it is not supported.
Storage: Minimum storage required is 128 MB. I recommend a 2GB or larger device.
Get it From: www.mojopac.com