Capturing screenshots is never this easier. ScreenSnapr is a free tool which lets you capture, store and share screenshots instantly. The best feature of this screenshot application is the ability to share your screen captures quickly and easily as you will be provided with a specific URL for your picture, as soon as you take the screenshot. This can be used to share through any medium like Twitter, Facebook, Email or IMs like MSN, etc. The URL can be shrunk automatically using IS.GD.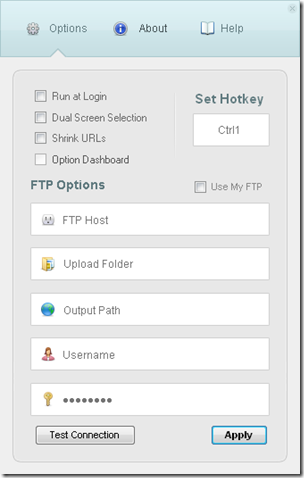 You don't have to install this small screen capturing tool. To capture screenshots,
Press Ctrl + 1

Select the region on the screen you want to take screenshot for by cropping. 

You are done.
The screenshot can be found in the output folder.  The image can also be uploaded online to their server or a custom FTP host or you can even directly uploaded it to a specific folder on your own server directly without any FTP Client. This means you can pick a folder on your server, and have your snaps uploaded straight to your website. Isn't that great?
This amazing tool is very much useful for bloggers and webmasters to simplify their work and also for people who want to share screen captures quickly. Don't forget to check out their Documentation to know more about the tool and tips to use it. ScreenSnapr is portable, light on resources, fast and is a very useful screen capturing tool. I am using it and I am sure you will like it.