CalendarPainter is a free program that offers a quick and easy way to create personalized / customized calendars to print in just 6 steps using your photos and also allows you to enter holidays and anniversaries.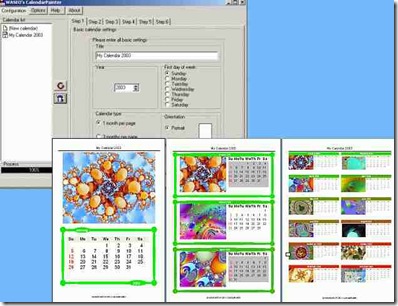 Step 1
Choose the number of months per calendar page (1, 3 or 12 months), the first day of the week and the format (portrait or landscape).
Step 2
Insert a picture (BMP or JPEG) for each month and choose the frame color of each month.
Step 3
Edit the name displayed on each day of the week, month, holiday and birthday.
Step 4
Load the list of holidays in Brazil, edit and insert new holidays.
Step 5
Enter the dates of birthdays you'd like to display on the calendar.
Step 6
Define which information should be displayed in the calendar, choose the font, save, view and print the calendar created.
Just 6 steps and you can create your own customized and personalized calendars for free.