BurnAware is a free disc-burning application that can burn not just CDs and DVDs but also HD-DVDs and Blu-ray discs. The software has a very nice clean look; also all the functions mentioned are well explained in the main interface. This is the only free application till date that can burn both high-definition formats.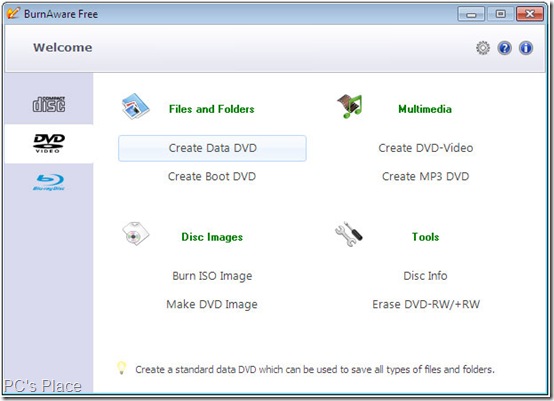 The free edition is quite simple; you can't do much more than simply create and burn, i.e. choose your data source and the target location. High-def media is still extremely expensive, which makes it quite pointless to recommend this program, but a free option is still good to have.
In fact this is the sole reason to recommend this free software over something better such as  ImgBurn or CD Burner XP . BurnAware is crippled to a certain extent by limiting commonplace features such as burning multi-session discs, UDF discs, bootable discs, ISO formatting, CD Text or creating ISO images. It even supports Windows 7.
Features :
Create data, bootable and multisession CD/DVD/Blu-ray Discs
Create Audio CDs and MP3 CD/DVD/Blu-ray Discs
Create DVD-Video
Record boot disc images
Create and record disc images
Supports all current hardware interfaces (IDE/SCSI/USB/1394/SATA)
Supports UDF/ISO9660/Joliet Bridged file systems (any combination)
On-the-fly writing for all image types (no staging to hard drive first)
Auto-verification of written files
Supports CD-Text and unicode characters
Supports Windows NT/2000/XP/Vista/7 (32 and 64 Bit), no drivers required