Have you ever felt the need of printing a document using a printer located at some other place? I am sure you have. The best way you can think of is emailing the document to the other person, and he or she would take its print.
Now what if you do not wish to share the document? Can you think of any other way? Well, there are ways to share printer on Internet. And using the below program, you can print documents online. It is just like having a virtual online printer.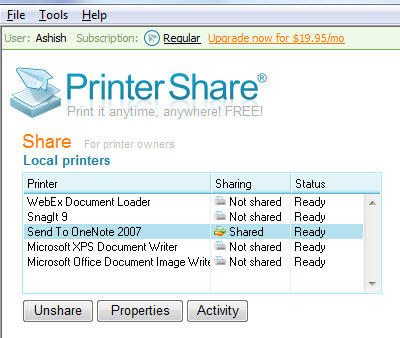 Best Way To Share Printer On Internet – Print Documents Online
PrintShare
They have a tag line, Print it anytime, anywhere! In order to share printer on Internet, you need to install this program on both the computers (one which owns the printer, and one which is wants to access printer online). Once installed, you need to create a PrintShare account.
While creating an account, make sure that you enter correct email address because you would receive confirmation password to that mail id. Now put a check across the Start PrintShare Console option and go ahead with it.
It would list out all the printers connected to it, just select the one which you want to share and click on Share button.
In order to access this printer over Internet, launch the same program on the other computer. Follow the same process and create a PrintShare account, and launch its Console.
Now click on Find Printer and you can use the User ID of the host computer, which is sharing the printer to narrow down the search items. Double click on it, and it would ask for the credentials. So, enter the credentials and now this printer would be listed under Remote Printers list.
Go ahead and start using this printer just like a printer connected locally. In order to share printer on Internet in this fashion, you have to make sure that PrintShare is running on both the computers and also ensure that the printer is switched ON.
If you wish to go with its free version, it would print an extra cover page with their advertisement. If you want to avoid this, then you have to shed some dollars.