Recently I have switched from Windows to Mac OS X and then I discovered that there RIOT does not work on Mac OS X. And there aren't many tools like RIOT for Mac. But I have managed to find a powerful and free Batch Image Compression Software for Mac namely, iResize.
As the name suggests, this app is meant for Mac users and works like charm. The fact that it supports almost all the major image formats that we use every day make it more powerful. It lets you compress GIF, JPEG, PICT, PNG, TIFF and PSD images and save them as JPEG.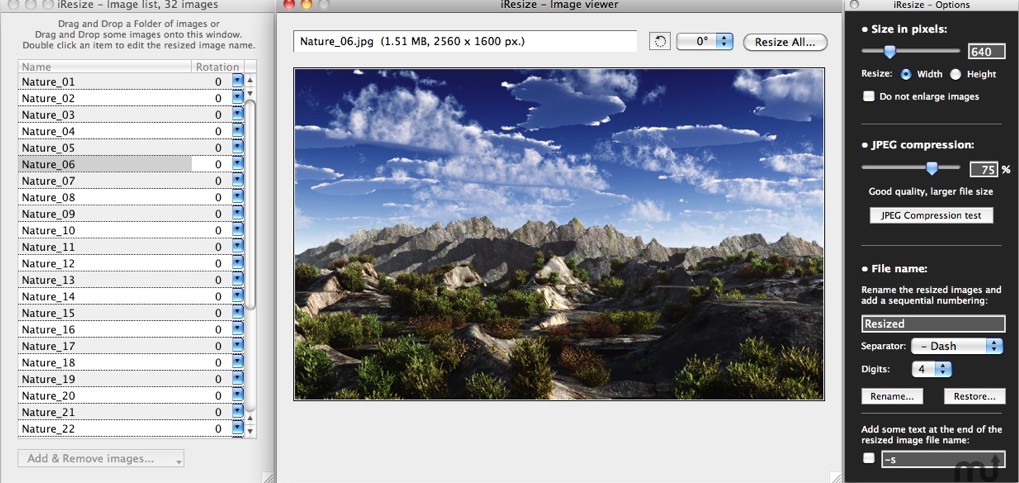 It lets you control almost all the critical parameters while compressing the images, so this makes it a very flexible image compressor for Mac. Its easy to use interface and fast processing would surely impress you.
Here are some of the features of this image compression tool for Mac, iResize:
New Interface
Quick and easy
Check the quality of the first scale with a preview of JPEG compression
Numerzione sequential renaming and scaled images, and / or
Adds text at the end of the filename (eg-small) to the name of file
Rotating images in 90 ° steps
Reading EXIF data
iResize lets you compress images in batch and the interface offered makes the whole task a cake walk. All you need to do is simply drag and drop the folder or all the images, set the parameters and compress the images. That is all.
Its whole user interface is basically split into three panels. One lets you pile up all the images that you want to compress, one displays the compressed image and the other one is the most crucial one, as it lets you vary all the parameters. So, if you are looking for a image compression software for Mac, then try iResize.