BattCursor is used to show you the battery power of your laptop directly under your mouse cursor or in the Sidebar in terms of percentage levels. There are several tools to display battery power of your laptops. This laptop battery meter is special because of its highly customizable features and also various ways of warning notifications which embeds into your operating system.
Also check out 10 Tips to maintain your Laptop – Better Laptop Battery Life

This free tool informs you about your Battery power using different colors for different battery levels ( Yellow for low, Red for critical, Green for default ). It uses various options like Mouse Cursor, Vista Sidebar, System tray and even Aero Glass to notice you about the power levels.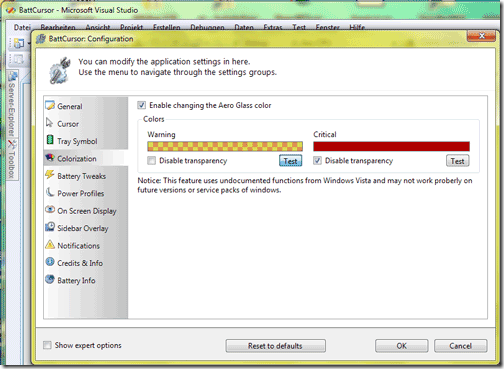 You can also save energy by disabling features, reducing brightness and using power profiles etc. The applications keeps you informed of several events by on screen display, notifications, technical details about the battery and its information.
BattCusor is used to know about the power levels of your Laptop easily with different kind of notifications which are displayed on the screen in an effective ways. This works on Vista and Windows 7 and is available for free download.