Open Image can be used to download multiple images from a webpage easily. It is a free utility to batch download images or pictures with a single click. This is the best way to grab multiple images from websites rather than downloading one image at a time using your browser. It has other functions like automatically renaming downloaded images file names with sequence numbers and you can even filter images by their file types and size range.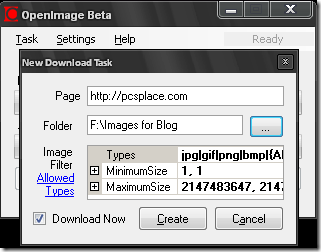 This portable application is Just 77 KB and can be executed directly without any installations. In order to batch download images,
Run the exe file of Open Image

Start a new download by going to  Tasks > New Download,

Mention the web address, the output folder where downloaded images should be stored.

Click Create.
After doing the above procedure, the software will start grabbing the images from the given URL and you can see the status from the progress bar. Once you are done with it, go to the Output folder and you can see all the images from the website.
Open Image is a useful utility, If you like to download multiple images from websites easily. It needs .Net Framework 2.0 or higher.