Have you ever wondered what on earth those rappers are actually saying? Don't strain your ears over it anymore. EvilLyrics is a wonderful co-application for all media players to search, download and learn lyrics automatically while playing your songs and enjoy and create karaoke for free and learn the lyrics of all your MP3 music.
How to Make Your Own Karaoke Songs CDs for Free
EvilLyrics is a small yet powerful lyrics search utility. Just install the application, start playing your songs on any music player, and EvilLyrics immediately launches itself to load information about the song being played. It works for different media players like Winamp, WMP 9, iTunes, MusicMatch, Foobar, MediaMonkey, Real Player, QCD, Y!Music, XMPlay, AlbumPlayer.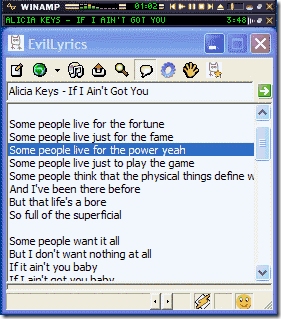 The information needed is picked up from the MP3's ID3 tag, and if the ID3 tag is not stored, it considers the name of the file. This is then sent out to numerous servers listed in its database, requesting the lyrics for the song currently being played. The lyrics, once displayed, are also stored for later offline use.
The interface is quite simple and easy to operate. At times, incorrect lyrics get downloaded because of confusion due to incorrect names or spelling mistakes in ID3 tags. This can be resolved by requesting another search result by simply pressing the [F5] key.
EvilLyrics also features options for you to upload your on lyrics and karaoke to its servers. Other features you can quickly access are the lyrics of other songs on the same album, a list of all songs by the same artist, album art, posters, lyrics translations, guitar chords and many other extras.