ArtWeaver is a free software which lets you paint or draw using different brush tools like calligraphy brushes, pens, pencils, crayons, chalks and even sponges. It also works as an image editor which supports formats such as BMP, GIF, JPEG, PCX, TGA, TIFF, PNG and PSD, in addition to its own format (AWD). You can even record your entire drawing process, store and play back later.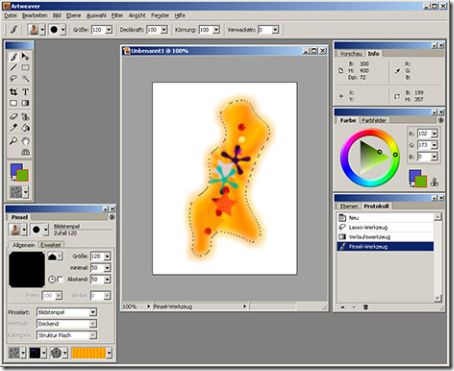 The Image editing features include selection, gradient, crop, fill, transparency, layers, effects (sharpen, blur, emboss, mosaic etc.). It has a lot of features and its interface looks like Photoshop. Here is a list of some best features..
Numerous file formats like AWD (Artweaver), BMP, GIF, JPEG, PCX, TGA, TIFF, PNG and PSD

Transparency, layers and layer sets

Standard image editing tools like gradient, crop, fill and selection tools

Large number of filters like sharpen, blur, emboss and mosaic

Support for plug-in modules (Artweaver standard Photoshop format (*))

Editable text layers of variable size, e.g. adjustable text color, text size, etc.

Integration of pressure sensitive graphics tablet

Protocol-function to make the final edits back to back or set forth

Support for many languages through language files
It is very easy to install and use. You will have a great Help file that will be useful for people who are new to graphics software and creative professionals. The features available in Art Weaver are usually available only in expensive graphics programs. You can download ArtWeaver for free.