Most of us like to start our applications or navigate through files etc using Keyboard shortcuts. Among those shortcuts, RUN commands are very popular. Here is a cool application which will let you make your own RUN commands or Run menu shortcuts. If you want to know more about RUn commands check my previous post on Windows RUN commands you may not know.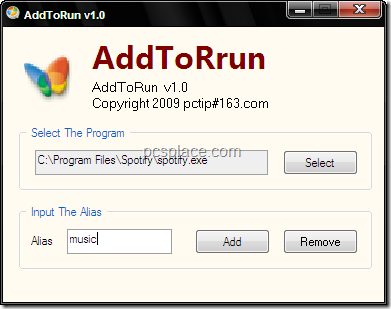 AddToRun is a small utility that allows you to open any file or application from the Start Menu's Run Command dialog box (WIN+R). using this you can create your own shortcut commands by selecting a file and assigning a name or key to it.
In order to create your own shortcut RUN commands,
Go to the application or program for which you will create the shortcut and locate its executable (.exe ) file.
Type the alias or word you want to use as a shortcut and click Add.
Now, your shortcut is ready to use. To access it, hit the Windows Key+R and type in the shortcut you created and you can see it in action.
This avoids usage of other programs to launch different applications and will be very useful if you like to operate everything without taking your hands off your keyboard.