Active Partition Manager is a free application to manage all your hard Disk or Drive partitions. It is used to manage storage devices and the logical drives or partitions. Using this free partition software, you can create, delete, format and name partitions on your computer without even shutting down or restarting the system.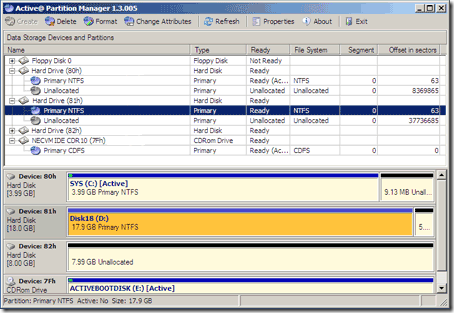 Also check out other Partition manager Software
There are many other features using which you can handle your hard disk partitions in a better way. The best part about this software is, You can also manage storage devices like memory cards, flash memory like USB pen drives etc. Thus, this freeware is useful to handle all your storage devices efficiently.
Best features of Active Partition Manager are..
Create a partition or logical drive

Format a logical drive or partition (FAT16, FAT32, NTFS)

Assign or change partition attributes

Format a Flash memory as NTFS

Delete a partition or logical drive

Create FAT32 partitions greater than 32GB in size (up to 1Tb)

Mark partition as active.

Create several partitions on a USB flash memory device

View the properties of a partition, logical drive or hard drive device
Download Active partition Manager