Skype has surely revolutionized the way people interact on Internet. Regardless your reason for looking for a Skype alternative, we list out the 7 best alternatives for Skype messengers. There are number of VoIP services available on Internet, both free and paid versions. And out of them, Skype stood out as the champion. Using this VoIP client is dead simple, which makes it everyone's favorite.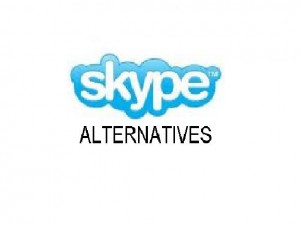 There might have been times when you actually wanted to shift from Skype to some other VoIP service provider. So, it is always handy to have or know about few of its alternatives. And if in case, you fail or do not want to use Skype, you must have some other reliable VoIP client to count on. Although Skype is the best VoIP service available, these alternatives for Skype will always prove to be helpful when needed. We have worked on some top and reliable list for Skype Alternatives.
Below are the 7 best alternatives for Skype:
Michael Robertson is the name responsible for this open-source VoIP softphone. This is guy who was linked with the release of MP3.com and this surely pumps the required hype. This VoIP service is so very amazing is that it is often known as "Skype Killer", and this might easily compel you to try it once. It features free PC-to-PC phone calls, interoperability with other SIP softwares such as the Google Talk or Jabbin.
How could Google not be included in any list like this. GTalk is a lightweight messenger which loads instantly and gets ready to function. Although GTalk is not compatible on Linux machines, Google Talk surely ranks high on the popularity list of VoIP service providers which makes it a reliable alternative for Skype.
Wengo seems to be one more competent alternative for Skype as it has got Skype like features.
Wengo is one of the telco which serve France. The company released its source code as OpenWengo. This VoIP client is in its last beta version and with this VoIP service provider, calling on landlines and mobiles is cheaper that with Skype. This makes it quite competent to replace Skype.
Experts say, iChat is the next big thing in among the known VoIP service providers. Its incredible voice quality and integrated iSight Video cameras, makes thi VoIP client one hell of a Skype alternative.Currently, iChat is available only on Mac OS but once it gets established we can expect its Windows version too.
Sight Speed is an award winning VoIP service provider which offers breath taking video conferencing which caters your business as well as personal needs.
As the name implies, VoIP Buster is capable of busting any VoIP service provider. With VoIP Buster, you can make free phone calls which makes it quite a favorite among the huge list of Skype alternatives.
Jajah offers the chance to make entirely free PC-to-PC VoIP calls and a limited number of free calls to and from landline phones. You visit Jajah's Web site, then enter your phone number and the number you want to call. Your phone rings and you answer, after which your recipient's phone rings and Jajah completes the call.