If you are thinking of In-Text advertising in your blog or site, Think nothing but Infolinks.  In-text ads ,  are advertisements that will be within your content and will be based on the keywords in the content. It is very easy to set up Infolinks in your blog or site. Just register an account and login. and Just set up a site and place the ad code. You don't even need any minimum amount of traffic to get your website approved. The site offers best In-text ads when compared to its competitors.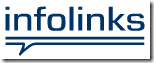 Previously I tried some In-Text advertising methods, but none of them worked well for me. But with my friends suggestion, I signed up to Infolinks. I must say that I am very much satisfied with the CPM.  Recent days it is varying from day to day. Sometimes it is  good and sometimes very low, may be due to recession effect. It should improve a bit CPM
The support team is very good. You will get a reply with in 24 hours, which I should say is good. As far as payments are concerned, they will be sent to you via PayPal or Bank Wire Transfer. I use PayPal and I got my payments after 45 days of completing my $100 mark. It is a bit slow on the payments, but you will get your payments for sure. I recommend you to join in and get that extra bit of earnings from Infolinks In-Text Advertisements.
Join www.infolinks.com