The command window shows only 25 lines when it is called up. This is too little to display longer text stretches such as help pages. Here is a simple way to increase the size of the command prompt window and thus increase the number of lines displayed:
Click on the upper left corner of the command prompt window and select 'Properties'.

Then switch to the 'Layout' tab. Change the 'Height' value under 'Window Size'

Set it at '50', for instance. You can retain the default width of 80 characters since most editions take this as the default value and have also integrated a line break at this point.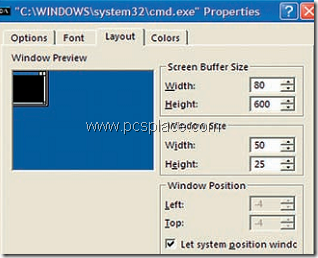 You can also immediately see whether and how the window thus defined fits your screen size in the preview, so that you can make your changes accordingly.
Also increase the 'Height' under 'Screen Buffer Size' to '600', for instance.
This number indicates the number of lines the command prompt notes and through which you can scroll back. This is most practical for the display of long help texts.
Confirm this setting with 'OK' and then close the command prompt.
The new values will be valid the next time you call up the command prompt and you can use it with your own settings. Here is a way to change color and customize the command prompt.
You may also like to see how to make Transparent Command Prompt.