Navigation in Orkut is one big pain as you have to do a lot of clicking. With many user scripts available it is made very easy. Here is one such GreaseMonkey Script Called Orkut Quote with Box.
There are many features of this particular Javascript for Orkut. It makes the navigation very easy by giving you access to the forum directly from the communities page. By this you need not visit the community's first page to check out their forums. You can check in the screenshot how a link called (forum) is given beside the community which will link you to the forum of the community.
Also you can go to the last post of a particular thread in the community directly by clicking on (last) which will be present beside the thread. They can directly see the last post of the thread without visiting the thread every time. Here is a screenshot of how it looks..
Along with these features one very cool feature which comes with this is the "Quick Reply". this will let you post quick replies in threads without opening the reply window. This is very much useful for all those people who chat in Orkut Communities.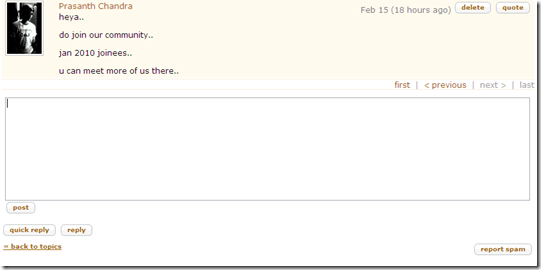 The quick reply box can be used as a regular reply window and you can even add in your customizations to make your posts look good. This is very cool feature as it will post your reply and will refresh your page automatically showing you the latest posts.
You can even quote others messages by using the quote button and you can even customize the way others messages are quoted. This facility will be helpful in giving replies.
This particular Script is very handy to in many ways and will make your Orkutting experience better. To install this script, You must have Firefox browser with Greasemonkey installed.
To know about Greasemonkey installation and usage of Javascripts in Orkut, visit this link :
How to Install and use Java script in Greasemonkey Add on for Firefox
After you have the required things, you can install Orkut Quote with Box user Script from the given link by clicking on Install in the pop up window..
If you have any more better user scripts for Orkut, Share them here..