Managing people you follow on Twitter is one herculean task. If you are following a lot of people, its hard to keep up with all their updates. Twitter is going to launch a new feature called Lists which will make organizing your Twitter friends and followers easier by categorizing the people you follow into specific lists.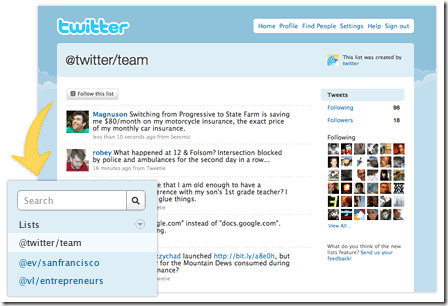 The Lists feature lets you group a set of people into a list. This lets you categorize your Twitter friends you are following into different lists for easy reference. For example, you can make a list of school friends as a list, colleagues as another list and so on.
These Lists are public by default (but can be made private) and the lists you've created are linked from your profile. Other Twitter users can then subscribe to your lists. These lists have the potential to be an important new discovery mechanism for great tweets and accounts. This is presently in testing phase and will be active on all accounts soon.
Update: The Twitter Lists feature Beta version is active now.  Check your twitter account for creating lists.
[via]