The world's biggest search engine- That is what they call this new child called CUIL. This is created by the Engineers from Google who claim that it searches more pages on the Web than anyone else—three times as many as Google and ten times as many as Microsoft.
Cuil is the Irish word for Knowledge. It is pronounced as "Cool".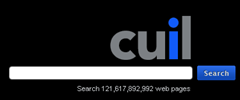 It searches pages and ranks them based on their content rather than depending on the popularity metrics. Also it offers choices and suggestions so that you can get exactly what you are searching for. The search history is also kept very private.
Coming to the features of Cuil there are many interesting things which will make it special like :
Drill Down: This allows you to refine your search to get exact results. After you perform a search you will get a pane on right side showing the categories related to the search. A rollover will show the refinements required. This is helpful when you are searching for an unknown subject on which you don't have much information about.
Roll-Over Definitions: When you roll over the subjects on the right pane this feature helps in giving definitions about it making it easier to choose whether it is a right one for you or not.
Tabs: A number of tabs will be generated for a particular search. It shows different tabs with various subjects related to your searched term and you can select the appropriate tab to narrow your search.
Navigation Suggestion: This feature helps in displaying links for a search term so that you can directly go for the link without searching for that term.
Cuil team has investors like Madrone Capital Partners, Greylock Partners and Tugboat Ventures investing in it for about $33 million and with a team of good career search engineers and management team makes it a strong competitor to other search engines.
When comes to displaying of search results cuil differs totally as it displays search results in a magazine style rather than typical white pages with links. Also the above mentioned features will definitely come into play in many ways.
Lets hope this will make its mark and gives some serious competition to Google which is dominating the Internet for years. Who knows this may even beat Google. So, what do you think about Cuil?