Here is a cool Linux Distro called GeeXboX which can be called as a Media Center Version of Linux.  The size of the distribution is shocking with a download size of close to 9 MB, I was wondering if this was even a real distribution! The interface is colorful with a simple menu, and fonts like the ones you would find in cartoonish games like Worms 3D. GeeXboX can play movies and music, and display images and slideshows if you wish.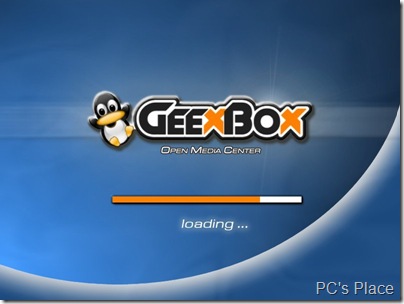 Once completely loaded into memory, the Live CD is ejected, so you can put in your CDs or DVDs. There is no mouse control whatsoever, so you have to depend on the keyboard's direction keys or a remote control. I had some issues with slideshows switching to next and previous image. I couldn't navigate to them, and had to jump back and forth to the index for this. But movies and music playback worked perfectly. GeeXboX plays back everything from AVIs to MP4s encoded in H.264 or QuickTime. It even played WMV files and Flash video clips and all this through the Live CD, without having to install any third-party codecs or players. here are various file types it plays along with some features..
MPEG 1/2 movies (MPG files, VCDs, DVDs …)
MPEG 4 movies (DivX, XviD, H.264 …)
RealMedia and Windows Media movies.
OggMedia streams
Matroska streams
Audio streams  : MP3, Ogg/Vorbis, WAV (AudioCD), AC3, DTS, MusePack (MPC), FLAC
Network streams : WebRadio and WebTV through SHOUTcast.
Watching analog TV and digital DVB Playing analog Radio streams.
Playing files from your local network (LAN) through remote NFS, Samba (i.e. Windows) or UPnP shares.
You don't always have to use the Live CD. You also have the option to install GeeXboX on a hard drive, which speeds up its already quick startup time. This distribution is perfect for those who have fairly old machines with some life still in them. Plug in a card with a TV-out function, and you have yourself a media play-back centre for free!
Get this Open Source Media Center at GeeXboX