GPUs ( Graphics Processing Unit ) can also be overclocked but it can be risky. Therefore Nvidia and ATI have hidden the overclocking options deep in their drivers. However you can access the settings for core and memory speed using RivaTuner, a software suitable for Suitable for Graphics cards of Nvidia and ATI models with integrated scheduler and Registry Editor.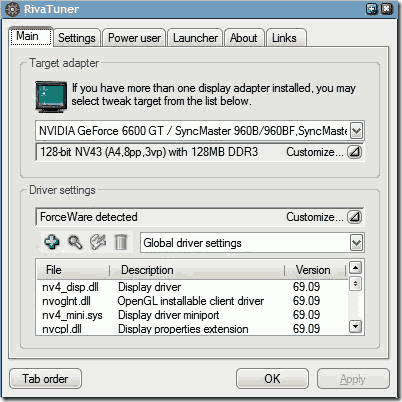 The software offers two modes for overclocking your GPU. The list of settings under the Power user tab is meant for beginners who want to play safe. This mode only makes changes to the registry and the drivers. To overclock your GPU,
Expand the section called "RivaTuner\NVIDIA\ Overclocking\Current device" and choose a preset. You can also tweak the fan speed from the section called "RivaTuner\NVIDIA\Fan\Current device".

If you are familiar with overclocking GPUs click on the Customize drop down list in the "Driver setting" field and select "System settings". This will bring up the System tweaks dialog box which has settings for adjusting the core, shader and memory speeds.

Check the "Enable driver-level hardware overclocking" box and click on the "Detect now" button in the dialog box that pops up.

Select "Performance 3D" from the drop down list and then drag the sliders to adjust the speeds.

Start with increasing the core speed by 50 MHz.

Apply the settings and use 3DMark or a game benchmark to ensure that the system is stable.
If everything goes fine, then increase the core speed in increments of 5 MHz until the system becomes unstable during benchmark. At the next reboot, set the core speed to the maximum value at which the system was last running without any problems. Use the same method to determine the maximum memory speed.