You can easily increase or decrease the sensitivity of your notebook or laptop touchpad. The sensitivity of the touchpad of your notebook or laptop is the rate at which the cursor or the pointer movies on your screen. This sensitivity can be changed and adjusted according to your comfortable settings which will let you use the touchpad in a better way.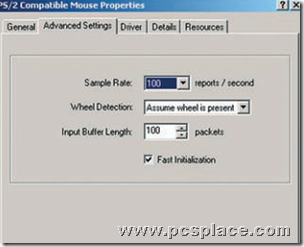 It almost seems like magic when you type something on your notebook and the cursor jumps over the document because your palm touched the touchpad. So your text appear all over the screen and not where it ought to be.  How do you solve this problem?
It is because of the input sensitivity of the notebook touchpad is too high. Many laptops come with a special driver (Ex:. Synaptics TouchPad) that can reduce the sensitivity of the touchpad. Without using such a driver, the touchpad is integrated as a normal PS/2 mouse and this means very high sensitivity. To solve this 'highly sensitive' problem,
Right-click on 'My Computer' and then select 'Properties' in the context menu. This opens 'System Properties' dialog box.

Click on the 'Hardware' tab and then on the 'Device Manager'. Here you will find an entry titled 'Mice and other pointing devices' in the 'Device Manager' window. When you double-click on this entry, it shows the touchpad as a PS/2 Compatible mouse.

Right-click on this entry to go to the properties of the touchpad, select 'Advanced Settings', and then click on 'Sample Rate'. You can reduce the degree of sensitivity here.

Follow this tip and you can solve the 'jumping cursor' problem easily.