The SD cards you used in your camera or or thumb drives may be defective and it will not be possible to read some of the files. To ensure all your flash memory devices are working fine, You can conduct a thorough test using Check Flash, a free utility that can be used to test and format flash-drives. Check out, How to recover Deleted / Lost Files from Memory Cards, Flash Drives, Hard Disk.
It can clean any evidence of activity on your flash drive by formatting it. With Check Flash you will be able to manage your flash drives by performing different maintenance tests on it. The tool can be used immediately without installation once you unpack the ZIP archive.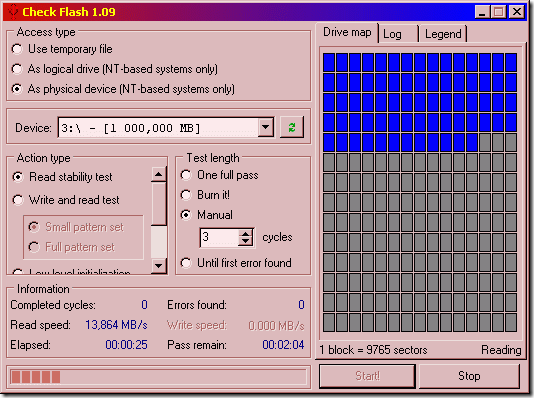 Note: Before starting the check, take a backup of the photos that are on the card, since the writing/reading tests overwrite all data. For this purpose, first select 'As logical drive' from the 'Access type' options. You will be able to perform actions such as 'Save image', which tests for read errors and saves the entire test process as an image file. 'Load image' on the other hand checks for write errors.
Conducting the Test for Checking Errors in Flash Memory Devices:
To commence testing, connect the flash device to the system and run the tool. Select the drive concerned in the 'Drive' combination field. Retain the 'Use temporary file' as the 'Access type' settings. Only the 'Write and read test' action is available for this type.
Also leave the 'Small pattern set' option as it is. Thus configured, a complete test cycle consists of two test runs with different data. This is sufficient for a flash device.
If you want to do a thorough check, select 'Full pattern set'. The tool then conducts 18 test runs for every single bit to check its functioning but this takes quite some time. To start the same, click 'Start' and wait for the analysis to complete.
Moreover, the test will let you have a good look at the actual writing and reading speeds for practical use. You will know immediately whether the manufacturer's specifications are realistic or not.