Google Chrome themes are finally released. These 28 new browser themes are available and will work if you have Google Chrome 3.0 Beta or Developer Version. You can easily Install and use Google Chrome themes. Here is a way to install, manage and uninstall Chrome themes. Previously we discussed about How to use Google Chrome extensions.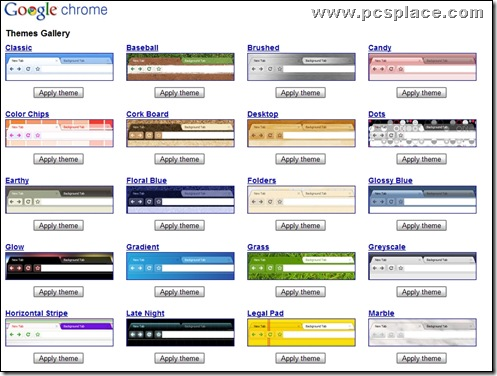 How to Install Google Chrome Themes ?
First download the latest Chrome 3.0 Beta or developers version. Chrome themes doesn't work unless you have the latest build of the browser. After downloading and installing the latest Chrome,
Select your favorite theme and click the "Apply theme" button.

The theme file (in .crx format) will automatically download and get applied to your browser.
How to manage Google Chrome Themes ?
You can switch between themes and can manage chrome themes by using the Options panel. To manage Google Chrome themes,
Go to Theme Management in Options > Personal Stuff tab

Choose to restore to default theme or select new theme.
How to Uninstall Google Chrome Themes ?
Chrome themes don't have a preview feature. So if you install any theme and you don't like it, you can uninstall it easily. The only way to uninstall themes, extensions and to reload themes is
Type chrome://extensions/ in the address bar

Click on Uninstall.
What is your favorite Google Chrome theme? Check them out to spice up your browser.
[via]