Opening your inbox every time to check mails is a boring task. If you are using Firefox and Gmail, you can check your unread email or any folder by entering a simple keyword in the browser.  Here is a trick from cnettv which will let you create a shortcut for your inbox or unread email or any folder or label you access frequently. This can be used to access your email instantly.
You can easily bookmark various things in Gmail like the inbox or sent items, archives etc. All you got to do is bookmark this link mail.google.com/mail/#inbox. Replace the keyword after hash for your desired option. For example, #sent will take you to sent items and #drafts will take you to drafts folder.
For unread mail you can search using a special search term such as is:unread in:inbox. This keyword will display the list of unread mails in your inbox. You can know about more searching options from this article : Simplify Your Mail Search with Advanced Searching Options of Gmail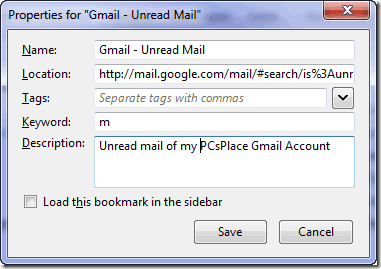 After you got the desired results, select the link in the address bar and bookmark it by dragging it on toolbar or by pressing Ctrl + D. Now you can access your unread mail or your labels or any search term easily from the bookmark. To make things even more simple, we use a special feature in Firefox called Smart Keywords, Check out Smart keywords – Search Specific Websites directly from address bar.
To create a shortcut to your unread mail or folders, right click on the bookmark and select properties and type a keyword or alphabet in the keyword field like mail or M etc and you are done.
Whenever you want to access your inbox, unread mail or whatever you bookmarked previously, just enter the keyword you defined for that bookmark and you can easily access anything just by entering the keyword in the address bar.