Every now and again, your hard drive is bound to get clogged with photos that you've taken and it is a good idea to keep backing them up from time to time. Picasa gives you the option to burn your photos on to optical discs. To do this..
Go to Tools > Backup Pictures,

Select New Set and give a name to it.

Also mention what formats you want to save and if you'd like to save the backup into a different folder or a network drive by clicking on Disk-to-disk backup.

Click Create to finish.

Now check the checkboxes for the folders and albums you want to backup and select Backup.

In the location that you backed up the photos, you'll find PicasaRestore.exe, which you can run to restore the images to the original path.
Picasa also has a Gift CD feature which you can use by following this procedure..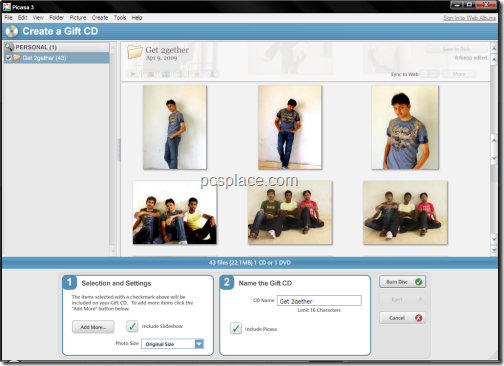 Go to Folder > Create a Gift CD.

Click on Add More to add more folders to the gift CD.

Select the resolution for the photos using the Photo Size drop-down menu and give the CD a name.

Finally, click Burn Disc to burn the CD.