Google is the biggest name on the Internet. And whenever someone tries to prove it wrong, they hit back hard. This has been happening all the time. So, make some noise for Google + Project. With Google PLUS, Google is trying to offer what no other social network has ever been able to offer.
In this cyber age, the term friend has lost its charm. Now, you click on a button, make a stranger your friend and then start sharing digital stuff like your photos and videos which is just not safe. So, is it possible for you to share stuff with selected number of people? No, it is isn't being offered by any of the current social networks like Facebook, Twitter or MySpace. But, Google + has something like this as its disposal.
So, below are the features offered by Google + Project. Read below to know more about Google + Project.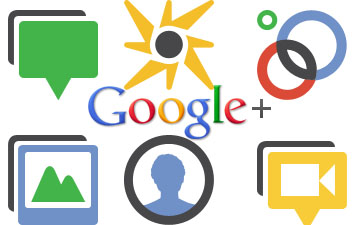 Google PLUS – Circles +
On Facebook you can create separate friend lists and but technically they are not much of use as you cannot restrict one group from few actions. But with Circles +, you can have your own circles of friends. All you need to do is drag and drop the people from one circle to another and Google have named it as Circles rather than friend lists. This is one of the biggest challenge met by Google +. Lets see how you react to it once you get to use it.
Google PLUS – Sparks +
Google wanted to offer something which would let people strike a conversation. So this leads to Sparks which is basically a platform where you get to find articles, photos, videos that you can share and start conversations. Now you need not wander on Internet in search of good digital content, Sparks does the job for you.
Google PLUS – Hangouts +
Gone are the days when an old friend comes to meet at your place and says "Buddy! Long Time." It is great that Internet brings the world closer and cuts short the distances. But we surely miss some subtle feelings because of this EASY TO CATCH thing. With Hangouts +, you get to live the real world on Internet.
When you start with this, your friends get to see your status as "Hanging Out" and whichever friend wants to get in touch with you, starts his camera to hang out with you. Its just like a you hangout with a group of friends. And initially, not more than 10 people can hangout together.
Google PLUS – Huddle +
I loved this feature the moment I read about it because I have never seen anything like this being offered earlier on Internet. Here, you get to form an huddle with you family and friends and get to decide on stuff which needs group decision.
Google PLUS – Mobile +
How could Google leave its Android alone. If you have an Android device then get ready to use its incredible Mobile + which lets you access all the Google PLUS features. And in addition to it, it offers you with an incredible feature. Whenever you take a picture on your Android device using Google + it automatically gets uploaded. Since your privacy is the top most priority, it wont make the pictures public but you can directly start sharing them if your want.
Apparently Google is facing huge competition from Facebook and Google never liked being challenged. Whenever they see things not going according to their plan, they come up with something which changes the whole Internet world and Google PLUS is one such move which would actually change the way people meet, talk, share, chat on Internet. So get ready for something that you have never witnessed on Internet.