For all those who like to use Google products, Here is Google Web Elements, an easy way to add all your favorite products like YouTube, Maps, Custom Search etc on your website or blog. You can customize and embed any product with a simple piece of code. This provides a chance to add dynamic content to your website and also it offers more ways of increasing your interaction with your visitors.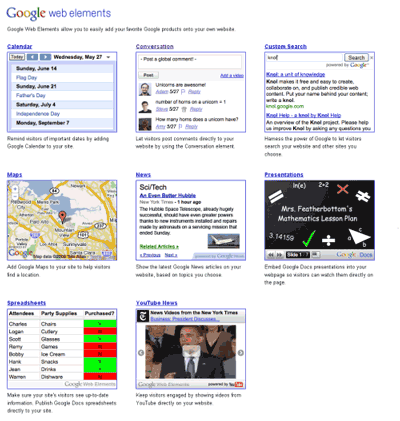 Most of the products are already used by many webmasters. The products include very useful services like Google Custom search, maps, News, Docs, News etc. To get the embedding code of these services, go to Web Elements, Click on your favorite service, set the dimensions, copy and paste the code  where ever you want. Here is a brief list of services available..
Calendar – You can make note or remind visitors of important dates.

Conversation – Used for visitors to comment directly.

Custom Search – Create own search engine for your site

Maps – Can spot the locations of visitors.

News – Shows latest news articles

Presentations and Spreadsheets – Provides an option to display Docs directly on your site.

YouTube – Displays a YouTube player which shows videos.