This is a very unfortunate news for all of the coders around the globe that Google is all set to shutdown its Google Labs : Code Search on January 15, 2012. Below is the message from Google,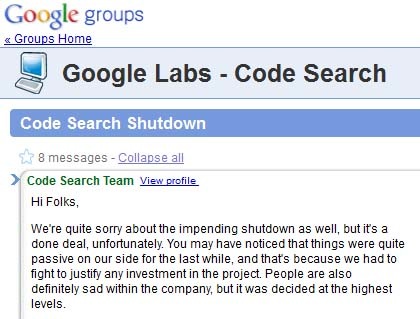 Hi Folks,
We're quite sorry about the impending shutdown as well, but it's a
done deal, unfortunately. You may have noticed that things were quite
passive on our side for the last while, and that's because we had to
fight to justify any investment in the project. People are also
definitely sad within the company, but it was decided at the highest
levels.
Now you would surely look for alternatives to Google Code Search, once this service is shutdown. There are number of free services on Internet other than Code Search, which let you fetch pieces of code with so much of ease.
I have tried to compile the list of few good Google Code Search alternatives to help you complete your code even after Google shuts down its one of the most incredible service.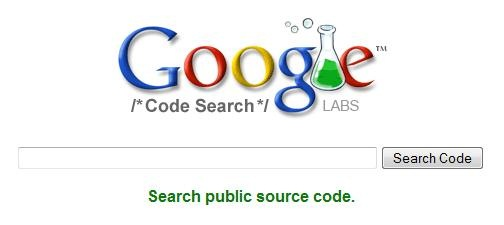 3 Best Alternatives To Google Code Search
Codase
Codase is not new into the market, infact it is one of the fastest growing code search engine on Internet. It offers you with code which is perfect with its syntax helping you to modify that piece of code without much of effort. One should check out this Code Search alternative.
Koders
It is an incredible Open Source Code Search engine, which lets you find pieces of code in almost all the programming languages. Since Google has announced its decision to shut down Code Search, users have been looking for a RELIABLE alternative to Code Search. Koders have announced on their site that they are here to stay and have no intentions to stop functioning now or in near future.
GrepCode
I know number of programmers who have been using GrepCode since ages. With its user interface, it is very much possible that GrepCode could come out as the most popular code search engine once the Google service is officially out of business. This is a powerful alternative to Google Code Search.
You can surely find number of code search engines on Internet, which could serve as the alternatives to Google Code Search. These are the popular ones in the current day scenario. But if you are using any other Google Code Search alternative, please go ahead with it. As long as you are able to find what you are looking for, any service is a good one.