Recently I have played a game called Assassin's Creed. This game is available in 3 platforms PC, Xbox 360 and Playstation 3. Here I am going to Discuss about the Game Play and features of this third-person stealth game which won many awards.
Assassin's Creed is set in the not too distant future. You're part of a scientific experiment, which involves a machine called the Animus.  Assassin's Creed takes you back to your distant ancestral past, where you play the role of an assassin called Altair.
Your leader has lost trust in you and now to regain it back, you must go through missions. You're rewarded with new skills and weapons for clearing these. Every now and then, you are brought out by the doctor and his assistant, whose looks and voice has been done by TV actress Kristen Bell.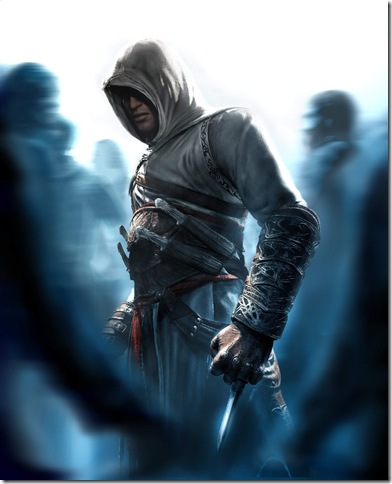 The graphics are amazing, and surprisingly, it runs well on mid-ranged graphics cards like the GeForce 8800GT and the 9600GT, in spite of the multisampling rate set to high, and a resolution of 1680×1050. The textures used are decent and the lighting looks pretty realistic as well. The sound effects are great, as are all the moves and animations. The mood is set well with crowds in the market area and sparser populations in the narrower lanes.
Occasionally, you end up surrounded by several guards trying to poke you in the back. The AI does a good job of keeping you engaged. The guards chase you even over the roof tops, and those in the surroundings chase you if you seem fussy. It isn't a very long game either, if you just go by the bare needed missions to get upgrades. One good example of some ridiculous stunts is the Leap of Faith, where you climb some of the tallest structures towering hundreds of feet in the air to survey the area for your next target.
You then jump off it into an always suitably positioned small cart of hay, only to walk away without a scratch. If you hurry to finish the game, it will probably last you 2 to 3 days. Overall, it's a good, fun game to play for an hour or so everyday. There has already been news of a sequel in the works.