Who is the domain holder or owner of the website you just visited? This information helps you ensure that you are not giving away confidential data on a phishing website by mistake. Each Internet domain is registered along with the address of the holder with the appropriate authority.
The free program 'CallingID' can always call up this information. In order to download CallingID, go to the site. On the website, select the 'CallingID Toolbar' for 'Product' and your operating system under 'Operating System'. Specifying an e-mail address here is optional. Download the suitable version with a click on 'Download Now'.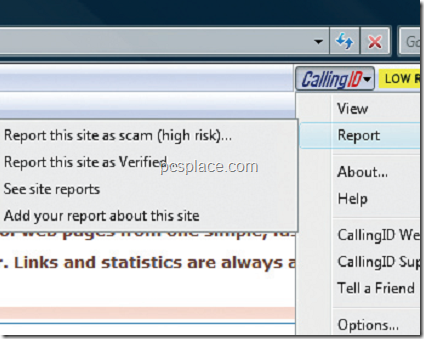 Finally, close all open browser windows and install the program with a double click. 'CallingID' integrates itself automatically as an additional toolbar in Mozilla Firefox and Internet Explorer. Colored symbols and information fields show whether the visited website has been rated as safe. You can also see the address of the holder and the location of the server.
In this way, you can quickly see, for instance, whether the displayed 'eBay' site actually belongs to eBay or whether a link has led your browser to a phishing site. If you are not satisfied with the partially incomplete display in the menu bar, click on 'CallingID' in the toolbar and select 'View | Show Long Toolbar'. You can even report individual websites as risky or safe under 'Report'.
You can download the tool from http://callingid.com/Download.aspx