Many websites cannot be used without cookies. Therefore, to protect yourself from spyware, you have not switched off this function completely. You delete these small files at the end of every browsing session, but some required cookies get lost in this process.
The browser does not make it easy to manage cookies, because all these files are deleted in the automatic cleanup. On the other hand, if you want to allow only certain websites to store cookies on your PC, you must theoretically ban all unknown websites as an exception. An elegant solution for this problem is "CookieCuller", the free-of-cost extension available from this link.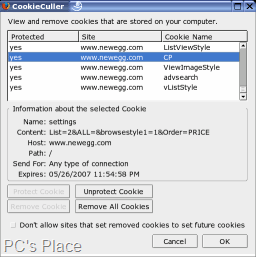 In order to set up this tool, click the "Install" link on the website or open the XPI file with Firefox. Restart the browser after clicking "Install now". The program is now ready to start. In the future, you can and should manage cookies using this extension. In order to protect a cookie from deletion, open the dialog through "Tools > CookieCuller" and search for the relevant entry in the list and then click "Protect cookie".
From here, you can remove individual or all unprotected cookies.
It is however more practical to automate this task. For this, close the dialog with "OK" and open "Tools > Add-Ons". In the list of extensions, mark the "CookieCuller" entry and then click "Settings". Activate the "Delete unprotected cookies when starting the browser" option and confirm with "OK".
Switch off Firefox's default cookie manager, so that it does not interfere. For this, open "Tools > Settings" and click on the "Data protection" symbol. In the "Cookies" section, set the "Retain till" combination field to the value "they are no longer valid". If you have activated the "Delete private data when Firefox is ended" option in the "Private data" section, also click "Settings". In the next dialog, deactivate the "Cookies" option and close the open dialogs with "OK".