Zinepal is a web service which lets you create PDF format eBooks or magazines from online content. You can create printable documents which can be downloaded for free. The content can be from blogs, Atom/RSS feeds and other websites. You can make Amazon Kindle, Mobi pocket and ePub versions of your online content. These converted material can be used on any eBook readers.
This provides an option to carry your content where ever you go. You can share these eBooks as e-mail. There is also option to create feeds of your created Zines and these can also be printed. or can even subscribe to the Zine feed. These are useful if you don't want to miss your favorite content on the move.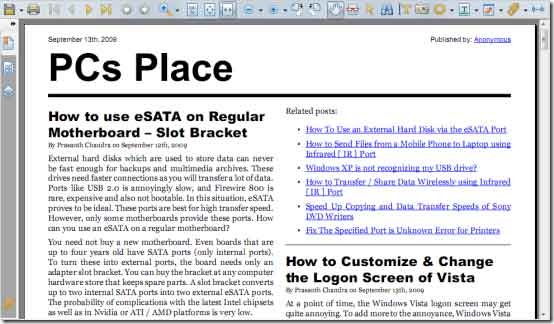 There are a lot of ways in which you can create your own Zines. You can get content from blogs or website, feeds or even Technorati search results. Once you input the required content in the given box, Click Select Content. It will show you the items individually. Select the items which you want and click create to make your own eBook with your favorite content.
Some special features are..
Preview created eBook or Magazine

Customize Design elements like font, layout, etc

Read and Download other created eBooks for free

Share created eBooks or Magazines with public.

Tag your created eBooks and much more..
Zinepal is one of the best way to create your very own printable versions of eBooks which can be made from your selected online content. You will surely like the user friendly features which simplifies the whole process of creating magazines from online content.