VapURL is a URL shortening service with a twist. It can create disposable URLs which will work only for a certain period of time or clicks. You can create your own temporary shortened URLs and can set the parameters for the links lifetime. In short, VapURL creates shortened URLs with an expiry period.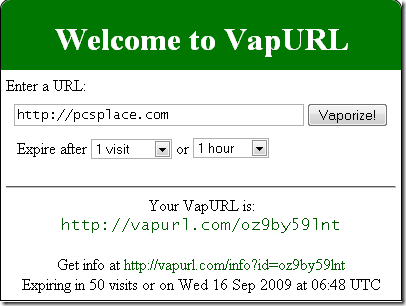 It has all the features of a basic URL shortening service. Once you visit the site, you can give the link you want to shorten, set the expiry period which can be a particular number of visits or  a certain amount of time. You can even set custom values for the expiry. It also lets you track or monitor information about created URLs.
VapURL is useful especially if you don't want the link to work after a certain limit. You can also use the service easily by dragging and dropping the bookmarklet on your browsers bookmark folder.